Cybersecurity for Business Executives Presentation: March 22, 2019 in Toronto, Canada
Publicerad den mars 6, 2019
You may think it'll never happen to your Business, but it does happen to thousands of businesses every month!
Cyber-attacks are on the rise and businesses are on the front line. As a business executive, it is tough to be on top of all the threats, solutions, industry trends and lingo. So why not come and join us as we break down the cybersecurity industry and look into the key areas that executives should focus their efforts on to secure their business.
In an hour of presentations followed by a panel discussion and questions, you can expect to learn about:
Threat landscape – looking at Canada and drawing experience from Europe.
How to manage cyber risks and avoid threats before they're able to infiltrate your network or device.
Key activities to create a cyber resilient business.
What does it mean for business that Canada is predicted to be a prime target for Cyberattacks in 2019?
Key presenter: Jan Karlsson, Co-Founder, Secure State Cyber
Moderator: Professor Mark Buchner, Sheridan College
Panel:
Location
Ontario Investment and Trade Centre, 250 Yonge Street, 35th floor, Toronto, ON M5B 2L7 Canada
Time:
22nd March – 8.45 A.M. to 11.30 A.M. – Presentation and panel discussion and networking.
Cost (includes continental breakfast):
$20.00 for SCCC & EUCCAN members and $25 General admission
---
Presented by The Swedish-Canadian Chamber of Commerce in collaboration with Secure State Cyber and supported by EUCCAN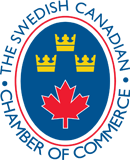 ---